This last July, four of my dear writer friends and I took time away from work and family to gather in Seattle to write and live together for five days.
When I was younger, this sort of thing was fairly easy for me to do (though I had less ability to earn and spend money than I do now), but now, in my present lifestage, time is such a precious, limited resource. Limited work vacation days, financial savings goals, loan repayments…
There are so many real, adult responsibilities that make time spent with others in the same physical location something that's so rare and unique, it has to be a priority for everyone involved or it's impossible to implement. The Tentacles are a group of people who live in locations spread across the United States from its East Coast to its West Coast.
Community, vulnerability, and authenticity are values that I prize highly. And all of these are pretty difficult to cultivate on a long-distance basis.
So we held our first writing retreat.
This writing group – The Tentacles – consists of five writers who all met for the first time in California during our week at the Writers of the Future workshop. Because the Writers of the Future contest is open to amateurs only, we met at very similar stages in our writing careers. All of us were, more or less, "just breaking in" to the industry.
The Tentacles have only gathered other time with all five of us in person, at a writing seminar in Colorado Springs. Again, it was a huge effort and financial sacrifice from everyone to make it happen. Each time we've gathered together, the effect is more than just hanging out. It's intentional conversations.
Delving into new ideas. Venting frustrations that we can't share elsewhere. Encouraging each other. Making resonant memories.
For this retreat–our third time all together–it took place in my hometown, Seattle. Thus, I helped to organize it and plan the itinerary. My parents graciously let us use their four-bedroom house. (This is a huge perk, for anyone else who might be thinking of planning their own retreat – see if someone you know is generous enough to lend you their home.)
I took my friends to a handful of coffee shops that I considered able to make excellent coffee, as I felt responsible for upholding the Seattle snobbery about this caffeinated beverage. 🙂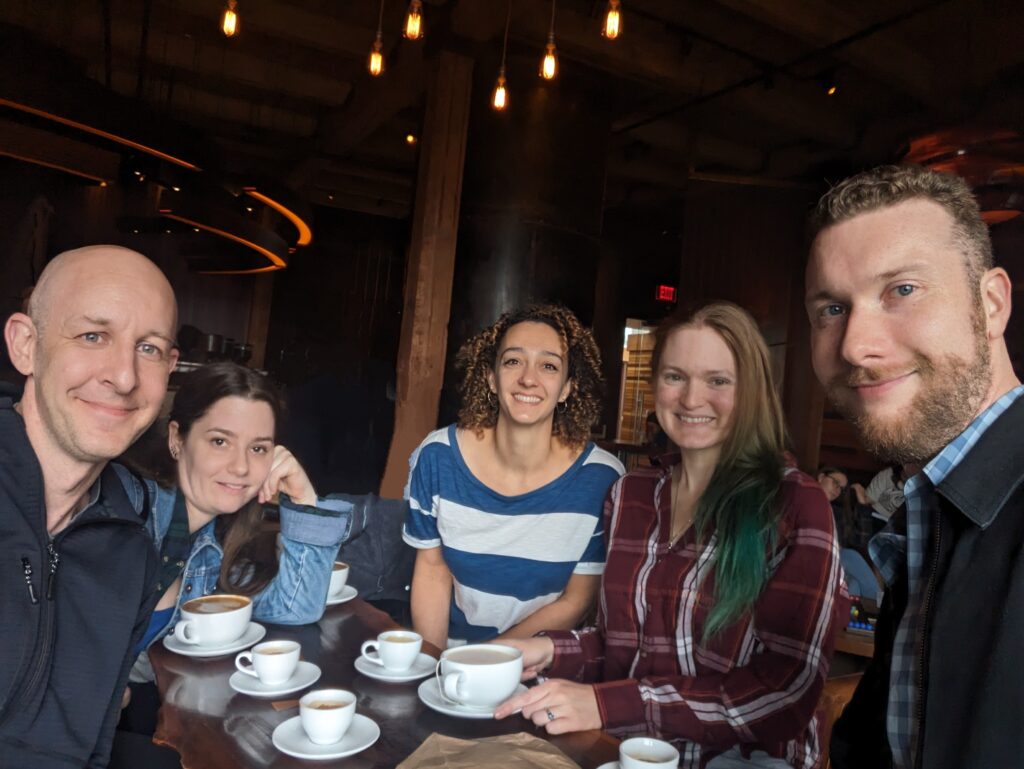 We made such a beautiful portrait of studious writers-at-work one morning that I caught an artist sketching us in the natural daylight of a coffee shop on Capitol Hill! (The following group photo is posed, of course, but this is where we were sitting when he began sketching us!)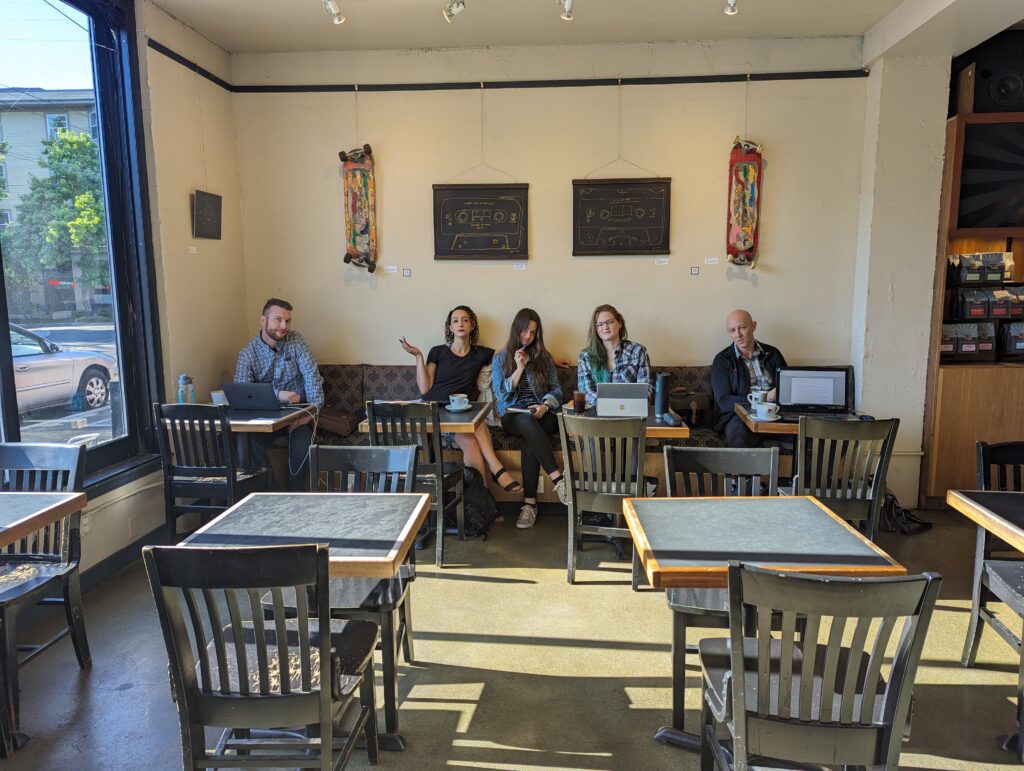 We took a hike up Rattlesnake Ledge and saw a spectacular view.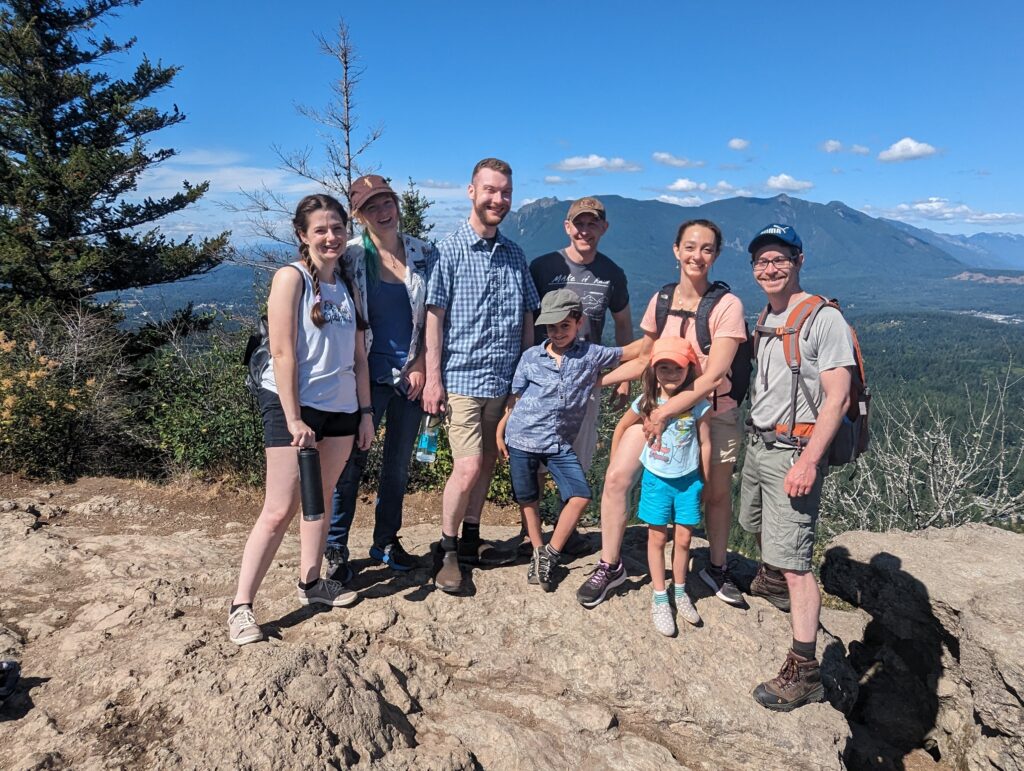 We brought lunch to the beach and stuck our toes in the Puget Sound — which is still freezing even in the summer!
We visited several Seattle breweries and played word games.
We hosted our own karaoke party in my parents' basement. It was wonderful, heartfelt, and hilarious, but I've been forbidden to post pictures or videos of that evening. 🙂
We had a backyard fire in my parents' chiminea and shared stories about near-death experiences. We wrote poetry late at night with a rule that we were not allowed to delete any of our typos. We ate sushi. We drove around in a minivan.
We got to be family for a few days.
There's a life and a richness that a community like this makes possible. For me, it adds color and rejuvenation to my work. It gives me something to look forward to when the daily grind or gray weather or school or parenting is wearing me down.
Retreats are a lot of work to host, plan, and organize. But this one has formed memories for the five of us that we get to keep forever.
Tentacles, I love you guys.