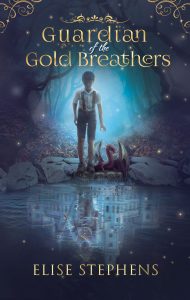 PURCHASE GUARDIAN OF THE GOLD BREATHERS
PRAISE FOR GUARDIAN OF THE GOLD BREATHERS:
Wonderfully-written, Guardian of the Gold Breathers is an imaginative and heartfelt story that will enchant and surprise young and adult readers alike.
-Terry Persun, author of DOUBLESIGHT
BOOK BACK:
Twelve-year-old Liam Finley doesn't expect anything good when he is forced to move from Dublin to his stepfather's large country house on the edge of the wild woods. But after the first night there, Liam abandons his fears of dreary boredom when he discovers that fairy tales haunt his new home. Has he truly discovered a dragon egg?
The house's old blind gardener Michael Moran claims to know Liam's secret destiny, which lies in an enchanted Otherworld. He says Liam is the next Guardian of the Gold Breathers, a champion of dragons.
Time is not on Liam's side. Can he complete his three tasks to prove himself as Guardian before the paths close between his world and the Guardian's land? Liam wants to believe the mysterious tales of Michael, but should he instead seek shelter in the practical kindness of Hannah, the housekeeper who calls Michael's stories "rubbish"? Liam's heart tells him to trust the things of magic, but it's the humans he can't be sure about.
Themes in this story include losing a parent, family relationships, dealing with guilt, overcoming challenges, facing your fears, and standing up for what is right, even when it costs you something.
Click here to purchase Guardian of the Gold Breathers on Amazon.com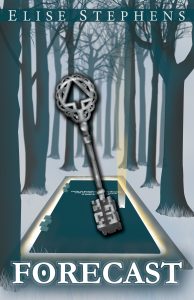 PRAISE FOR FORECAST:

"Elise Stephens is one of the most exciting and talented writers I've encountered in a long, long time. And in Forecast she makes good on that promise and more."
-Robert Clark, author of MR. WHITE'S CONFESSION, Edgar Award Winner
*****
"Elise Stephens has written an enchanting, atmospheric novel for young adults that is exquisitely crafted. In FORECAST, the teenage protagonists Calvin and Cleo, draw you in immediately. The twins are authentic young people with daring and heart.  You empathize with them and cheer them on as they uncover the "family" power that the universe has granted them. FORECAST is a transformative read that combines suspense, mystery, magic, and sentiment. It holds the key to unlock any teen's imagination."
– Gale Martin, author of DON JUAN IN HANKEY, PA and GRACE UNEXPECTED
BOOK BACK:
Calvin isn't a teenager, not really; instead, he's spent his life trying to protect his mother and sister from his alcoholic father. Calvin keeps a knife close and sleeps with one eye open, even years after his father has left the family. A summer vacation spent at their late grandfather's estate promises him and his sister the chance to leave their problems behind.
Instead of blissful freedom, they find the old house harbors secrets at every turn, like a mysterious stone door in the forest with rumored powers to give its entrants the gift of future-seeing. When Calvin faces the return of his seemingly-reformed father, he throws himself through the door to receive the gift of foresight. But the door offers more doubt than certainty, and the future he sees is riddled with disturbing confusion. With a revenge-obsessed lawyer hunting him down and a secret society out to control him, Calvin must figure out how to stop what he's started before he loses what he holds most dear.
As he battles the legacies of his past and the shadows of his future, Calvin must accept help from unlikely sources, give trust he never thought possible, and learn that the greatest challenges lie not in the things to come, but in the present moment.
PURCHASE:
Click here to order Forecast on Amazon.com
PURCHASE MOONLIGHT AND ORANGES
PRAISE FOR MOONLIGHT AND ORANGES:
"A brilliant novel that sends you on a rugged trek as the characters discover, fight and surrender to their fate. Beautifully written!"
"…This book is definitely worth the time to read. You will be so captivated by its skillful character and plot development, that time flies. I recommend Moonlight and Oranges without reservation. I would suggest, however, that you budget your reading time accordingly since you could find this book too engrossing to put down."
BOOK BACK:
A timeless tale of young romance.
Lorona Connelly is ready for a change from her carefully planned, bookish life. When sparks fly at a costume party, she embraces a chance for romance with the handsome Kestrin Feather. However, she quickly realizes that even love and destiny may not be enough to overcome the reality of an overprotective mother-in-law and Kestrin's long, tarnished history of relationships. When Lorona's curiosity leads her to Kestrin's journal, doubt plagues them both with insecurities and threatens the relationship. Can true love overcome the odds, or was their whirlwind romance just a frivolous crush?
Author Elise Stephens shares a journey of young love, fate, and wounded trust in the story of Lorona and Kestrin, a couple who must learn to overcome their fears to share a life together.
PURCHASE:
Click here to order Moonlight and Oranges on Amazon.com
TAKE THE QUIZ:
What Moonlight and Oranges character are you? Take this quiz to find out!