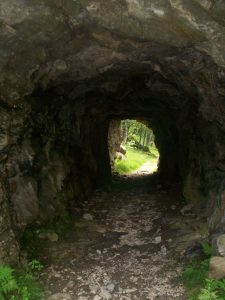 I surface. I blink in the watery, clear light of autumn. I cradle a small warm bundle of life in my arms and hear him cry for attention, love, and food.
The reason for my long absence from this blog was the birth of my son, George Liam Stephens. He arrived early on August 1st, and my life has turned head over heels: In love. In responsibilities. In priorities. Welcome to the world, little life!
Then, on November 5th (thanks to the film V for Vendetta, I'll note it with "Remember, remember the Fifth of November") I was able to take up writing for the forty-five minutes. It was like my first breath of fresh air after months in an underground cave.
The cave in which I lived was filled with little sleep.  Tiny peals of human cries, echoed off the walls as my baby called for me. As a new mom, I've honestly figured out so very little, but three months after my baby has come out of me and into this world, I'm starting to form a handhold, albeit a slippery and fragile one, for what it looks like to go on living.
My son is incredible. I've watched him try to sing, witnessed him kick his heels in his bath water, sat with him while he wrapped a tiny fist around my finger. I will never be the same.
I will be a mother to my son.
And I will write again.
It may be as painstaking as re-learning how to walk. I'll have to crawl before I walk. But as my son take his first developing steps, I'll take my first steps into the illuminated world of storytelling, word by word.
George snuggles against me and breathes with his nose burrowed against my chest.
I stand outside the cave and breathe.
This little one is joining me on the rest of the journey: