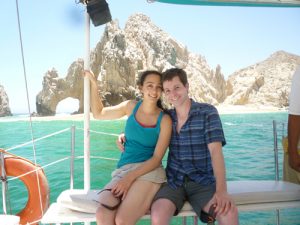 I have so much news to share with you, I'm making a special "news" post!
James and I just returned from an AWESOME time in Cabo San Lucas, and I'm proud to say that we both feel closer because of it.  The photo I've attached to is him and me having an awesome time on our snorkeling excursion.  I don't think I've ever had so many margaritas in a seven day period, but who's counting?  Nothing got too crazy, we were just very relaxed.  (Of course, you'll be hearing more about Cabo in later posts!)
My second freelance article with SheKnows Magazine is up!  Love Him In Ways He Understands was inspired by the book the 5 Love Languages.  Hope you enjoy!
Did you hear that Moonlight and Oranges was free on Kindle earlier this week?  If you missed the news, you might want to try following me on facebook (click "like") and Twitter.  My news is up-to-date there, and sometimes it takes a few days for it to work onto my blog.
I had a friend ask me how I get a monetary cut out of free.  The answer?  I don't.  What I get is more people reading my book and hopefully, if they like it, they'll tell their friends who will buy the book.
Oh, and speaking of loving the book, if you liked it and have yet to review it on Amazon, I would love to get a review from you.  It would make my day.
This weekend I'm headed off to the Women's Leadership Summit in Seattle.  I have high hopes and lots of excited anticipation.  Stay tuned for a post-Summit update!
xoxoxoxo
Elise