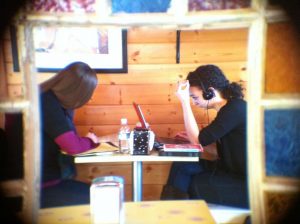 Every time I stay in my house for a long time in isolation and start gobbling huge quantities of chocolate to deal with my stir-craziness, I'm reminded that the hermit lifestyle was not designed to be a life-long gig.
The human condition comes with a hardwired need of others.  I need companionship, affection, feedback, encouragement, teamwork, as well as….
I discovered, based on an assessment, that I need a manager with an open door policy who I can go talk to about anything.  This is for my life and my writing.  No wonder I talk my husband's ear off every night at dinner.  (Sorry honey!)
Panicked thoughts that ran through my mind after learning this:
1. I need a personal manager! 
2. I don't have money to just go hire someone.
3. Who/how/where do I even start? 
4. Why am I so needy?
Answer to #4: Because, darling, you're human.
I divulged my distress to a writing buddy who I meet with on Fridays. To my amazement, she volunteered to be my manager. (I promise, I wasn't fishing for this!)
She had me brainstorm a list of questions I'd want to ask/be asked by this hypothetical manager. Then I created a simple spreadsheet.  Nerd alert: If you want to see my personal management checklist (maybe it'll make sense, maybe you'll call me OCD) here it is : Elise Personal Manager
So far, the best part of this friend management is talking through my distractions.  Such as: how much I freak out about book sales or how ridiculously unattainable my weekly goals are.
My friend is a writer, and shares my passion and can sympathize.  But still…
I would never in a million years have expected her to help like this.  I didn't realize my answer was sitting next to me, smiling in the sunshine with her notebook and pencil.
Friend, you know who you are.  Thank you.