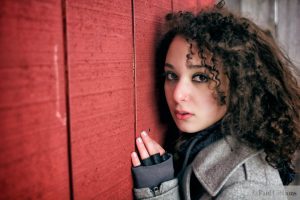 She walked out in a pair of tiny denim shorts and a T-shirt that was falling off one shoulder. She spoke in a sweet southern accent that I'd never heard before and burst into real tears as she explained to her best friend that she'd never be responsible enough to be a mother.
My sister stole the show for her acting final.
I was sitting in the auditorium near the back (I had permission to sneak in to watch the students' finals) with tears streaming down my face. I don't care if she was acting, that was my little sister talking about being a mom and experiencing betrayal as she talked about her baby's father.
There's truth in theater, and I think that's why we cry (or blubber, if you're me.) If you missed it, I wrote her a love letter last February.
This is the truth: my sister is growing up. She doesn't have a baby of her own, but she did just graduate from college. She isn't reeling with a broken heart from a loser boyfriend, but she is nursing wounds that left her fierce and defensive, but that also made her one tough cookie who I can respect.
On a hike yesterday, she and I walked and talked, just the two of us, for almost 6 miles. I got to see the woman she is becoming as she interviews jobs, as she dreams of traveling and studying glass blowing. She even let me brainstorm solutions for a socially frustrating situation—and we did it as peers.
And if I'm not careful, I'm going to start crying all over again.
Are any of you also going through someone else's growing pains?