Today I introduce you to one of my lifelong friends.  I knew Hannah ever since she was born.  I opened her first birthday presents for her (I was two years old at the time, and thought myself infinitely more capable) and we have stayed friends through high school, college, marriage, medical school…  Name it, and we've probably dealt with it over the phone!  Only our first years were spent living in the same state.  After that, it was the most amazing long-distance friendship you have ever seen.
One thing about Hannah that's always amazed me–her joyful spirit.  She and her family have experienced deep heartbreak and anguish on multiple fronts, yet Hannah is one of the brightest spirits I know.  She also doesn't think she's just happy and driven and awesome all by herself.  She knows that attentive loving care in her early years made a world of difference.
***********************************************************************************************************************************************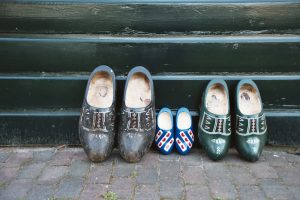 BECAUSE I KNEW YOU by Hannah Qualls
I might be stretching the truth a bit to say that this journey began in a sixth floor apartment on the corner of 4th and Virginia, four blocks from Pike Place Market, where a fresh-faced engineering student read To Kill a Mockingbird to his wife during the early stages of her labor. But, in many ways, that's true. Words and stories and life and death wove themselves into my heart from the beginning. Scout Finch and Boo Radley's story in my father's voice was the first thing I ever heard.
This is not, however, a story about how I became a writer, because I am not one. I am a physician, barely finished with medical school, and leaving the lush, familiar Pacific Northwest for the as-yet unknown Midwest to spend five years training as an otolaryngologist-head and neck surgeon.
I'm getting ahead of myself, perhaps. If the affection for stories started in Seattle, the love of medicine began when I was a child in Broomfield, Colorado. My mother has a blood disorder that causes her body to attack her platelets. Without platelets, the tiny cell fragments that ordinarily seal off cuts when you get distracted while cutting carrots, she bled and bruised easily. Our exuberant black labrador would cover her shins with purple welts like she had been hit with a golf club instead of his tail. Almost daily, the fear haunted me that she would die, leaving me to help my father raise my younger siblings. When I was six, she had to give herself twice-daily shots. I wanted to help. Only years later did I realize that she needed no assistance from a six year old, but that she let me help anyway. In many ways, this makes her my first patient. At eight, I promised myself that I would find the cure. Someone else beat me to it, for which I am grateful, because she has been in remission for over eight years.
Still, her illness shaped me. I wanted to know how the body worked, what cells looked like under a microscope, what each piece of the doctor's equipment did, and what magic sounds she heard through her stethoscope. And as the love for healing grew, so did the love for people and their stories.
My parents, high school sweethearts from Buckley and Enumclaw, small towns in western Washington, are now a college engineering professor and a homeschooling mom/adoption educator. They are the kind of people who pour themselves out like Gatorade at a marathon, like good wine at a party with all your dearest friends, and like water from a central pivot irrigation sprinkler that has sprung a leak. They raised me and six brothers and sisters with two priorities in mind: serving Jesus and being a tight-knit family. They read aloud to us; the sound of my childhood is still Little Britches in my father's voice and Shadow Spinner in my mother's. When I was in college, they adopted four kids from Ethiopia: two with special medical needs, and all four with broken hearts. I always knew that my parents cared about people, but it was not until our family was deconstructed and rebuilt that I realized just how much.
Stories, a blood disorder, and my parents' outrageous compassion all played a role when I decided to attend medical school. Those four years included the hardest and best days of my life. I realized that I had to become a surgeon when, on my first day in the operating room, the surgeon shoved my hand – "Hannah, don't move!" – to compress a spurting blood vessel deep in a man's belly. Using my hands in the process of healing people became one of my greatest joys and shaped my calling.
Each one of my patients tells his own story, often without words. From the kid with the paper lei who woke up in the emergency department after overheating at a rave, to the woman who lost her ability to walk as her brain tumor grew, to the grandfather whose family dumped him at the hospital door, to the six-month-old baby who slept on my shoulder as I carried her to the operating room, they gave me an intimate knowledge of their lives beyond their diseases. A mix of tragic, miraculous, and mundane, the stories of medicine and the patients who tell them continually bring me back to the bewildering wonderment of life and death, and to the generous spirit with which my parents approach their world, and the stories they told me in the process.
_____________________________________________________________________________________________
Hannah Qualls, MD, recently graduated from the University of Washington School of Medicine, and moved to Minneapolis for Otolaryngology-Head and Neck Surgery residency at the University of Minnesota. People with head and neck diseases – ranging from cancer to cleft palate, to swallowing dysfunction and hearing loss – cope with physical and emotional burdens that can affect the way they relate to others and the way the world relates to them. She hopes to serve her patients by enabling them to better tell their own stories and is tremendously grateful to Russell and Lisa Qualls, who helped shape hers.