I am very excited to introduce you today to Steven Luna.  Steven and I met through our publisher and the amazing world of Twitter.  I was immediately struck by his kindness in helping spread good news for others across the web, as well as a fun-loving attitude that was readily apparent in all his communications.  His photo says it in a nutshell…(scroll down to see what I mean).
Thus, when I read his piece, I wasn't expecting to be bowled over with tears that made me clap a hand over mouth and nose to stop from making a scene at my favorite coffee shop.  Steven's not only a gifted writer, he's a deep feeler, and his gratitude and love for this special person makes it a powerful story.
*********************************************************************************************************************************************************************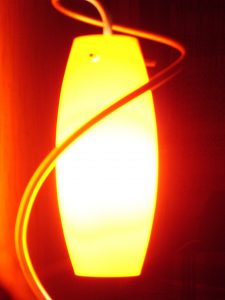 BECAUSE I KNEW YOU by Steven Luna
You were there.  On our horrible blue-flowered couch.  Sitting with me while nineteen seventy-three unspooled around us.  You, from New York, my father's mother, with your brilliant Brooklyn accent and your skin soft as thought.  Me, from New York as well, but transplanted now.  A desert dweller in my third year of life, in three dimensions, on planet Earth.
At this point in time and space, we overlapped.
It was here that the miracle occurred.
I watched as your finger moved across the page, my eyes sliding left-to-right, left-to-right.  Your voice calling out each sound as though you were reciting a prayer, a poem, a spell.
To me, that is exactly what you were doing.
I had no idea what those things were at the time, but still.
"Now, you."   And I followed your fingertip across a landscape of letters, and I made the sounds as you made them…one, and another, strung together like beads, until they gathered meaning and became words.  Magic stirred, as though you called the dead print to life.  And the words collected into a stanza, and the stanzas into a verse.
You didn't realize it at the time, but my world was cracking wide open.
Let there be words; let there be language.
Let there be light.
"Again," I must have said.  And after that, "Again," again, I'm sure.
And again, and again, until I saw every sound and word and rhyme coming before it arrived.
There, on the blue couch, with your hand over my hand, we decoded the universe.  I imagine it must have been killing me not to have had this ability up to that point.
I may have had a three year head start on life at the time, but that was the moment I came alive.
And then, there was no stopping me.  I read it all – newspapers, cereal boxes, street signs.  My name on birthday presents, allowing me to separate mine from those of my twin.  And I opened only my own.  And my parents were stunned that I knew the difference between the word "Steven" and the word "Beth".  But I did.
Because of you.
No writing too grand or too small not to at least try.  Adults challenged me, and as the stories go, I rose to the occasion.
Because of you.
Soon enough, I began writing it down, too.  How could I not?  The world, for me, is words; there is story in everything, hidden in the substance of all, in print too small to be perceived unless you know where to and how to see the magic.  A sentence as simple as "I am" is a story unto itself.  The phenomenon doesn't go unrecognized or unappreciated in my life.  Not for a minute.
Because of you.
You gave this to me.
With your kindness, your patience, your persistence.  Your willingness to sit with a twitchy three year-old boy who probably would have rather been watching cartoons or climbing a tree, but realized that something much more amazing and necessary was happening here.
Because I knew you, I have words.
Aside from my children, I have never received a greater gift.
In the heartbreaking irony of a long and well-lived life, somewhere in the middle of your twilight years you lost your ability to read.  A neurological apocalypse that stripped away the magic, and left you without a vision for words.   Physiology and fate have seldom been more cruel.
Little did they realize that you had already spread the miracle.
It lived in me.  I carried it forward.
I gave it to my children.  Your gift, my gift to them.
And when you could no longer do it for yourself, I sat with you, and I read.  Showing you words, my finger now moving across the page, a landscape of letters that once meant so much to you, now nothing more than print struck dead without a shaman to stir their magic and make them live.
I had that magic.
Because I knew you.
"Again," you said.
And after that, "Again," again.
__________________________________________________________________________________________________________
Steven Luna was relatively quiet when he was born; that all changed once he learned to speak. Now? Good luck getting him to shut up. He's also known for not giving straight answers, but those around him are accustomed to ignoring him anyway, so it all works out.  He's currently writing another book…really, though, aren't we all?
Website: http://joevampire.blogspot.com
Amazon: http://www.amazon.com/Joe-Vampire-ebook/dp/B00736WAZW/ref=sr_1_1?ie=UTF8&qid=1340715824&sr=8-1&keywords=joe+vampire
Barnes and Noble:  http://www.barnesandnoble.com/w/joe-vampire-steven-luna/1108479183?ean=2940014071277
GoodReads:  http://www.goodreads.com/author/show/5757470.Steven_Luna
Facebook:  www.facebook.com/thestevenluna
Twitter: @joevampireblog