Today I introduce you to my good friend Will. We originally met through a shared love of swing dancing. Later, after I graduated college and he went on to grad school in journalism, we collided at a mutual friend's writing group. Will's sense of humor and devotion to uplifting, encouraging, and supporting his friends makes him a magnetic leader. He constantly strives to make everyone laugh and feel comfortable, which is truly a gift of his.  He hosts a weekly tea, cookies, and writing group called the Notion Club, which I joined the year ago. It's become a haven of support, love, laughter for me and many other writers.
When Will showed me his contribution for this series, I was startled and teared up. But that's Will for you. I'll let you see his heart and thoughts on paper and you can judge for yourself.
**********************************************************************************************************************************************************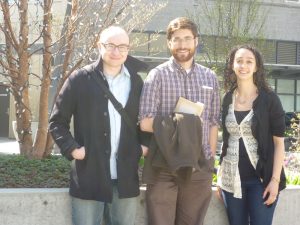 BECAUSE I KNEW YOU by Will Mari
"Two are better than one, because they have a good reward for their labor. For if they fall, one will lift up his companion. … Though one may be overpowered by another, two can withstand him.
And a threefold cord is not quickly broken."
-Ecclesiastes 4: 9-10, 12, New King James
I have always tended to be a solitary writer.
Growing up in a military family that moved around the country, from salty coast to coast and into the kudzu-covered South, I'd write bits and pieces of stories, or draw big maps on blank pieces of butcher paper, and reveled in my imagination, alone. I'd share my stories with my brother (as the necessary plots for our eternal wars between "green" and "brown" toy soldiers, over the shifting boundaries of sock-bombed forts of Lincoln Logs and wooden blocks), but that was about it.
My stories were for me.
Later, in college, at the University of Washington, I found myself up to my eyeballs in writing, journalistically. I loved it. I got to explore my community and had the authority to follow my whimsy. Politics, science, etymology, it was all fair game. I was freed from the burden of writing for myself, as Chesterton discovered.
And then came the Notion Club.
I had just returned from a year away in England, and wanted to reconnect with my friends in a way that was reminiscent of the Inklings, the group of writers centered around Lewis, Tolkien and their comrades at Oxford in the first third of the twentieth century. I had long admired this group, and, along with two other friends, Carter Butaud and Angel Lopez, we began meeting about once a week, first on Thursdays at coffee shops, but soon on Friday evenings at my house in the U-District. I've deepened many a fine friendship in the Notion Club, and have been blessed forty-fold by these companions.
But it was there that I met two other friends, Scott Phillips and Elise Stephens, who changed my idea of sub-creating, as Tolkien would say, in community.
Let me tell this story another way:
There once were three friends who wrote, together. One reveled in exploring the boundaries between the light and the dark, while keeping his heart steadily steered by Christ, and another loved fantastical adventures, thick with wonder, and weaving plots upon themselves so well that her readers would gasp in delight at each turn of her tales. The third wrote wacky tales of wombats, brewed the tea and baked the cookies.
But the three helped to bring other writers together, too, in order to write better for their common King, and to create good art Christian-ly (not "Christian art," per se)
This writer was further humbled by Scott and Elise's generosity of spirit, and how they came alongside him to encourage him, and to extol him, at their S.I.N. (Spiritus-Inky-Notion) council meetings (named for the abbreviated titles of their groups). Scott and Elise altered seriously my perception of what it meant to be an artist — or support them. They continue to provide calming counsel and empathetic hearts. For as long as Notion lasts, and beyond, they have shown me the truth of Lewis' words in the latter's Four Loves.
Friends are people who care about the same search for the truth: we do not always agree. That's all right. But we do search in company. It is a sign of good friendship that we feel humility toward the rest, and that we seek to avoid the creation of an "inner ring."
I cannot claim credit for the Notion Club, or for the sudden and startling appearance of Scott and Elise in my life. But I am grateful. There wouldn't be a Notion Club without the likes of them. They are gifts from a God Who loves His people enough to have them meet each other.
Or, as Lewis expresses it:
"…in Friendship … a few years' difference in the dates of our births, a few more miles between certain houses, the choice of one university instead of another, posting to different regiments, the accident of a topic being raised or not raised at a first meeting —any of these chances might have kept us apart. But, for a Christian, there are, strictly speaking, no chances. A secret Master of the Ceremonies has been at work. … The Friendship is not a reward for our discrimination and good taste in finding one another out. It is the instrument by which God reveals to each the beauties of all the others."
Thank you, Scott, Elise, and the Notion Club, for showing me the beauty of community. You have made it quite clear that "in each of my friends there is something that only some other friend can fully bring out."
So, let's get to writing, shall we? I'll put on some tea.
________________________________________________________________________________________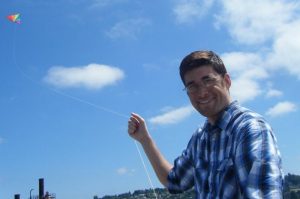 Will Mari is a PhD student at the University of Washington where he studies media history and continues to dabble in journalism. Most of his writing is written on deadline, which is good, because otherwise he'd never get it done. He loves the Inklings, including such influences on the Inklings as Chesterton, a good cup of tea and a cookie. Or three.