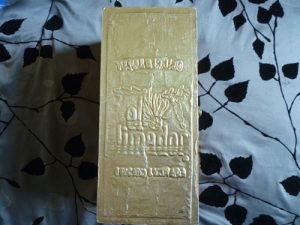 I've been making these trips to Mexico for 13 years now, and I've never had stories that made me cry like this one.
Jahir (Yah-EER) was the second eldest child of the family who received a house from my team.  He was a perfect model of gentle courtesy.  He shook hands to greet me and looked me in the eye whenever we spoke.
When our American group stood inside the freshly painted sala of the new house to dedicate it to his family, Jahir's parents thanked God for this blessing as Jahir watched wordlessly.  Yet when his parents held the new keys, Jahir wept openly, completely undone.
About an hour later, Jahir approached me with a wooden box.  It was a tequila case for a special limited edition añejo.  The cover was beautiful gold-colored metal, etched in a stamp.
Jahir opened the lid and showed me a 10 centavo coin.  He said it was a present.  How cute, I thought.  He wants to give me a coin as a memento.  But then Jahir left the whole box sitting beside me.
I looked at the pool of silver- and gold-colored coins, the green glass marble, and the pencil eraser that he'd stowed inside.
This is his treasure box, I realized.
Sobered and choking on my emotions, I hugged him and said, "I will put this box in my home and I will store precious things inside it."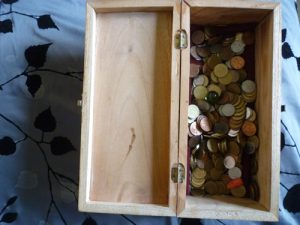 Jahir and his family have a new home.  He knows he's rich in blessings.  And I've come back from Mexico with a treasure box.