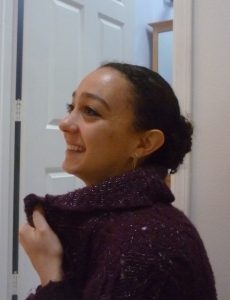 I felt like a queen as I slid into my duster style sweater, soft purple yarn twined with silver…it has lots of ruffles and feels like a royal robe to me.
During breakfast with friends later that day, the sweater got comments—"You remind of a woman who used to be a fashion model."  "You could be the artist formerly known as Prince."
Clothing choices say a lot about us.
We'll opt for comfortable sweats some days, we'll pinch our toes into heels for a night at the theater, we'll vow to never wear a certain item because we feel ethically opposed to it…you know what I mean!
I'm acutely aware of my clothing when I'm nervous. I wrap myself in a conservative, mainstream style when I'm in the presence of those I want to impress and I opt for more romantic, artistic, and casual wear when I'm relaxed.
Am I a chameleon? The easy answer is yes. When I'm intent on being accepted, I'll tone my expression of myself via clothing in a direction to make me most likable. And on the days I don't care, I wear that purple duster sweater robe.
This is what I don't want: to dress to fit the expectations of others, to hide myself, to pretend I'm something I'm not.
This is what I want: to be real. I want it so badly because it's so hard to do.
Do your fashion choices follow your mood? When do you feel at your most authentic?