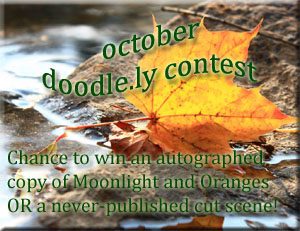 Lorona and Kestrin meet in costume at a Halloween party and the sparks fly under a full moon set high in an October sky as Moonlight and Oranges opens. Kestrin wears a set of white feathered wings and Lorona barely hides her nervousness behind nerdy glasses and a notepad. Costumes inject excitement and intrigue into any evening, in my opinion, and this story makes no exception.
October is the season of romance for Moonlight and Oranges and I'm celebrating with a contest!
Everyone is strongly encouraged to enter, including but not limited to friends, family, acquaintances, random person I talked to on the bus, and anyone in between.
DOODLE A HALLOWEEN COSTUME AND WIN!

1) Go to doodle.ly and click "Doodle Now."  Create an image that shows your ideal Halloween costume (it shouldn't take more than 2-3 min, unless you want to get fancy)–there are no limits but your imagination and the bounds of good taste (i.e. please keep it classy). Bad artists welcome!
2) Post your artistry on Twitter with the hashtag #moonlightandoranges or on Elise Stephens' Facebook page.
3) You may create multiple unique entries if you wish.
4) On October 31, Elise will select her favorite costume and send an autographed copy of Moonlight and Oranges to the winner, as well as a never before published cut-scene to the winner and three runners up. Runners up will also receive a digital e-reader version of the novel.
This contest will run for the entire month of October.
I can't wait to see your drawings!