I met her at freshman orientation. She and I had both circled a long list of identical activities from a series of opportunities designed to help us explore our new university campus.
We wanted to see all the same things. It was a sign. (I love looking for signs!)
She told me, over lunch a few days later, that she felt we'd known each other for years already, and were only just getting reacquainted.
There are friends and there are bosom friends.
I have been honored to be touched with a handful of beautiful friends who've passed in and out of my life in various seasons. Some passed out and then passed back in. Some passed through and faded. Some still have yet to pass back in. Some I still have yet to meet.
Today I want to tell you a bit about Lainie.
My whole family fell in love with her. She's a woman who loves with her whole heart, laughs with her whole body, gives with her whole soul.
She is a brave world traveler, a passionate cook, an intellectual who challenges you to greater heights that you'd comfortably reach on your own. She's encouraged my faith, soothed my wounds, and inspired my creativity.
We were inseparable in college.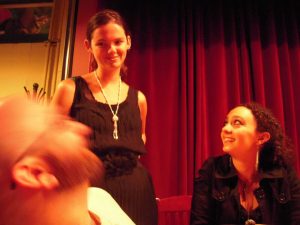 We made a pact, early on, that if we had to cancel a "date" together, it was always acceptable if the reason for canceling was a romantic opportunity (although I think we phrased it "You can always cancel on my for a boy.") We promised to always make things right if there was pain or disagreement between us. We promised to keep our friendship alive.
We went out swing dancing. We saw theater shows. We acted in theater projects. We painted together.
I have one distinct memory from one outings in which we decided to wear floor-length red gowns and paint in a park.
(Yes. This is the sort of thing we do.)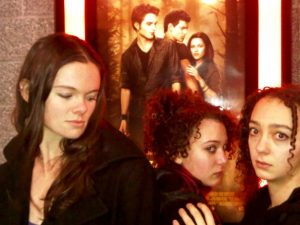 The dresses happened to be of similar hues, though that was unplanned. While we perched on a bench in Carkeek Park, conversing happily and making our brushstrokes, a woman approached with a timid smile on her face and asking if we were celebrating our wedding.
Ah yes. We did meet in Seattle.
But on the subject of weddings—and this is where I am going, she and I haven't been perfectly synchronized when it came to chronology.
I met James while I was still in college. About a year after graduating, James and I tied the knot. Lainie was my maid of honor. She said such amazing things about me during her speech. It's comforting to know she thought I was a good friend to her too.
Lainie and I have actually spent a lot of our friendship apart since the early college years. We've written stacks of letters. We've continued to share our hearts and dreams. We've reconnected over holidays.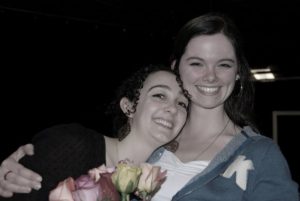 Five-ish years into my marriage, I gave birth to my son. Lainie rejoiced over him as his auntie. My heart ached to share this new season with her. I wanted to raise our kids as friends. I wanted to be a married woman alongside her. I wanted all of this to be mutual territory. But it wasn't.
I prayed a lot. It was one of those fierce, determined prayers, begging, pleading that Lainie and I could share these things together. To be wives and mothers together. I know this isn't something all friendships have. I know a friendship doesn't need this common ground to keep going. But I wanted it badly, so I kept praying.
I don't hear clear and vivid answers to prayer very often.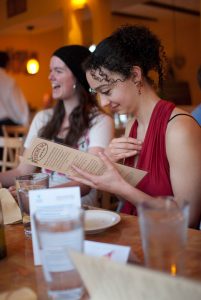 But in Lainie's case I did. God told me on Christmas 2013 that Lainie would meet her husband in 2014. I waited a long time to hear the news. But when she finally told me she'd started dating this wonderful man and that he loved her in such a way that she was reminded of the way Jesus loved her, I was silently screaming with happiness. I didn't tell her about the whole "God told me about him" until Nathaniel had proposed marriage.
It was a very happy secret to share at last.
A wedding is the merging of two lives.
It's the beginning of the most important team we'll ever build. It's the hardest and best human relationship I can imagine. And I'm overjoyed to see my darling friend stepping into its folds. She's found her lover and her friend.
Lainie, you are a bright light. You've found a man who treasures you. I couldn't be happier for you and I'm giddy to watch you become a bride. There are so many moments in life where things seem to get harder, but this is one of those times when I'm certain it gets sweeter.
I wish you both joy, laughter, an abundance of grace and forgiveness for each other, and a friendship that will weather the years of scarcity and of plenty.
I'm sending you all my love.