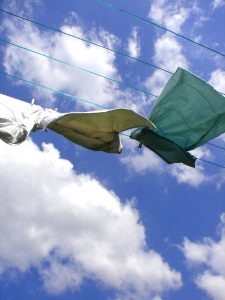 If I were an item of clothing with my own 'care instructions' tag, it would probably read something like this:
"regularly moisturize with kind words, feed daily doses of chocolate, exert gentle, routine exercise, and maintain healthy diet for happy demeanor."
Yes, I'm aware of what I need. But do I do it?
The truth is, though I'd never encourage someone to skip their own self-care needs, I have a nagging voice that says it's okay to cut corners and put myself in the proverbial drier (because it's more efficient than the hang-dry I really need.)
I get up early to make my husband his breakfast smoothie, but often I leave myself no time to cook a healthy dinner when I eat it alone.
I urge my friends to plan time to paint or sing to nurture their souls, and yet these items on my list often get shoved to the bottom for "if I have time for it."
When I hand-wash my sweaters, I'm protecting them from falling apart. The sweaters aren't "spoiled" by this.
Self-care is mandatory if you don't want to break down.
(How many times will I tell myself this before it really sinks in?) I've had enough break downs to speak as an authority.
Take notes on the things that strengthen and heal you. Plan a self-care routine that doesn't consume your life. Weekly trips to the day spa probably isn't sustainable, but a fifteen-minute soak in the tub, might be.
I think it's time that many of us started reading and applying our 'care instructions' tags.
What self-care is your life is missing?