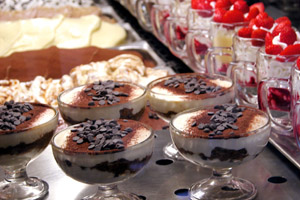 Some good friends of mine are an American and Canadian who got married and live nearby with their kids.  They invited me this last weekend to celebrate Canadian Thanksgiving with them. 
A new feast day!  How awesome is that?
How many traditional feasts do we get to celebrate in America culture?  Christmas, Easter, Thanksgiving, Independence Day, weddings for friends…Any other big feasts?  I would argue that feasts are needed more than every few months.  I would also argue, that sometimes those traditional feast days become more stress or rush than a leisurely feast.
Don't get me wrong.  I love feasts!  Making food and gathering for the purpose of hanging out for hours, eating homemade meals and just relaxing in each other's company is something that I think we do too little–my heart chimes in "yes" to this thought.
Some nights, I'd rather pop a DVD in the player and bake a frozen pizza.  It's easier, it's less intimidating, but it's not a feast day.  Canadian Thanksgiving woke up a little part of me that wants to feast more frequently and more joyously.
That reminds me of a favorite painting.  Festivals, inspired by such works of art as Lawrence Alma-Tadema's Spring, shouldn't be lost.  We should dance in the streets, wave flowers, sing songs and roast pigs with our friends and neighbors.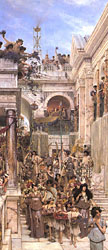 If someone invited you to dance with them in the street, would you do it?