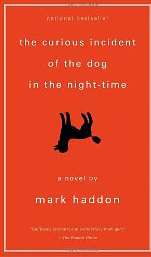 Looking at the world through another's eyes can be enchanting, funny, disturbing or profound.
Christopher Boone's avid attention to detail in this first-person canine murder mystery makes this story both funny and heartwarming.
A dog is discovered brutally skewered with a garden rake in the yard of Christopher's next door neighbor.  His investigations follow the logic of Christopher's revered Sherlock Holmes and continue dig up more trouble than answers, but he does not lose heart.
In between inquiries, Christopher explains what it is like to live in his autistic world by sharing his interests, dislikes and rational conclusions about events and subjects that he is told are irrational.   Nevertheless, he shows a very convincing argument for why yellow and brown are bad colors.   
For Christopher, logic can be used as a sedatives.  In stressful situations such as a crowded subway station, a complicated math problem that takes several minutes to solve is self-administered so that the body may relax while the brain is otherwise occupied.
As much a character study as a mystery tale, The Curious Incident of the Dog in the Night-Time by Mark Haddon is an intelligent and honest account of a young man perceiving the world with its hurts and challenges and bravely venturing forward to find his own place in it.