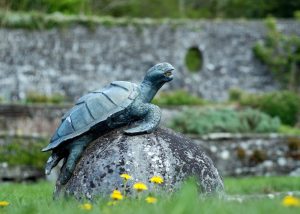 To come "out of one's shell" is an interesting idiom.
I imagine the little turtle poking her head from her glossy green shell, wishing she could just stay home. It always seemed that the turtle was expected to chuck that embarrassing shell and get on with her life.
But a turtle can't actually leave its shell. I can't actually shirk my need for quiet time. It's a limb, a section of soul, a core component that would cripple me to lose.
So what does an introvert like me do when she's faced with a huge writer's conference and family wedding (an example from this weekend)? She asks God for strength and steps into the whirlwind.
Our shells aren't made to be cracked or abandoned.
A quiet evening with my husband is one of my shells. Too many parties, meetings, or dinners, and…my heart develops a limp.
At the writer's conference, I took copious notes, made a handful of conversations, and absorbed most of my day in quiet. I can't ask loads of questions, and I can't chat up dozens of new friends.
These are some ways I protect my shell from cracks.
At the wedding, someone handed me a camera, and I documented the flower-girl pouring all her petals in one place. I couldn't greet everyone I knew, but I could hold my hands out to help.
I am slowly learning to survive in a world that champions outgoing, magnanimous attitudes.  I love people dearly, but I must gather strength apart from them.
I curl inside my dark shell and gather the beauty to bring back to the light.
Are you an introvert? Extrovert? Somewhere in between? What are your survival tips?