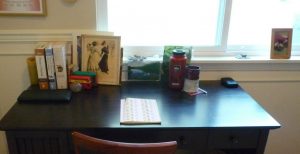 I took this photo as I was getting ready for a sprint during NaNoWriMo. 
My friend, who has done NaNoWriMo several times before, (I consider her one of the hardened, battle-ready pros), told me to take a "before" and "after" shot of my workspace, because it was about to slide from well-intentioned organization mode down the slope to complete insanity survival mode.
The office didn't get quite as messy as I thought it could have, but I did nearly lose my mind.
Results of NaNoWriMo:
I couldn't spell words that I'd previously known how to spell (she warned me that would happen)
I was switching random words for the ones I'd intended, thus inserting ones that had no business asserting themselves in my sentences. 
I broke down and posted something on facebook begging my vocabulary to come back.
I wrote a story with a solid(ish) plot faster than I would have ever thought possible.
I met other crazy, kind, excited people and wrote faster than I've ever written in my whole life.
I nailed 50,000 words of story before Thanksgiving (I don't know how to slow down once I rev into the gear called "madness.")
Thus, something got messy, but it was my mind rather than my office.  Finishing was a good feeling.  I also wanted to roll over and have nothing to do with writing for several days straight. 
However, all NaNoWriMo diatribes aside, I thought it would be fun to show you a glimpse of my daily writing rituals. 
Front stage and center is my writing notebook.  Whenever I can, I buy plain, unlined sketchbooks from an art supply store in the University District.  I personally don't like lines, but many of my writer friends do. 
I fold my pages in half to create columns.  This means that I have to move my hand less, and that I can cram more words on a page.
I use the wettest, slipperiest pens I can find, since I write freehand and then type it up.  I honestly can attest to more creativity and uninterrupted flow when I use pen and paper.
You see that huge, ominous red Nalgene? That's filled with what I call the "green drink."  It got the recipe from my former employer, Mitra Ray, and that thing has seriously made it possible for me to get good nutrition and a good start to my day.  An unhealthy writer is a less productive writer.  If you want to try it, the green drink recipe is here.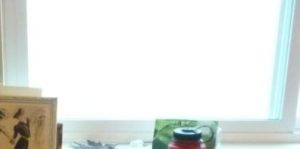 My big bright window plays a huge part of my workspace.  I am a light addict.  Positioning myself with light as a main influence to my writing scene is crucial. 
The framed photo in the window is one of me and my husband while we were still dating.  It's sitting on the wrong side of the frame.  My husband did that to be funny, and I didn't change it back because I liked it.
Right in front of my notebook, taped to the sill of the window are images out of travel magazines that I found inspiring.  Just staring at a mountain scene or a plump summer strawberry helps me feel richer and enlivened.
That picture on the left of the two women ice skating was given to me for my birthday by a dear friend from college.  She wrote on it, "When I count my blessings, I count you twice." Just having that memento of her love strengthens me.
My desk is only one of the many places that I write, but it gives a decent perspective on the thoughts and arrangements that percolate through my head as I sit down to practice the craft.
Do you have special places in your home that inspire you?  Have you built yourself your own haven for creativity, or just for rest?  What rituals keep you focused and inspired?