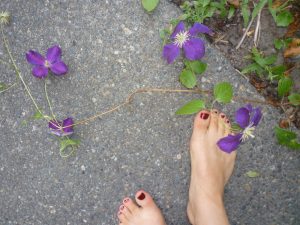 As I left my house a few mornings ago, I noticed one trailing vine of clematis, fallen across my path. The other blossoms on my plant had long since withered, but this vine bore thick, velvety, flowers – late arrival beauties.
My garden is teaching me about life. I can only water it in early morning or late evening, away from the busy hum of the bees and the beating pressure-cooker of the sun.
My garden wafts a sweet peace in the quiet, still hours – the posture I crave, yet forgo so often in favor of efficiency. I want to surrender my task list to the beauty of stillness again. My garden does it daily.
I'm still relatively new at this gardening thing. I…always…forget to fertilize. Similarly, in my artistic "regimen," I keep thinking I can grow without nourishment. I guess I just think I'm strong enough…like a plant is strong enough to grow without water and sunlight? Yeah. It's a good metaphor.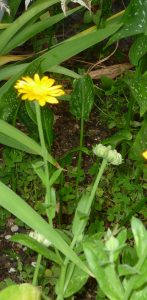 Toward summer's end, the flowers dwindle and still my garden needs water. Even when the colorful glory has left the stage. Even when it looks like nothing is happening.
My garden's teaching me that life has seasons and, at the end of a long hot spell, I might need an extra layer of nutrients to replenish what was consumed in high summer energy.
I'm watching my late-blooming clematis, letting it tell me there's no need to rush. Beauty can and will blossom late, and a garden is meant to be cherished and cared for whether it's at rest or in bloom.
Do you garden? Has it taught you anything about life? Are you remembering to fertilize? Any tips on life-fertilization you want to share?