A savvy traveler, dreamer, and delightful writer, I'm thrilled to introduce you to my good friend, Michelle Fuller! 
Michelle and I crossed paths at the University of Washington while the two of us were swing dancing through undergrad.  I remember one fateful night in which we sang, full-throttle, Part of Your World from Disney's The Little Mermaid, and after that, our friendship was forever set in stone.  This talented, vivacious woman has a considerable vault of courage, and it's taken her far in both her studies and her travels (read on to see what I'm talkin' about!)
Enjoy!
**********************************************************************************************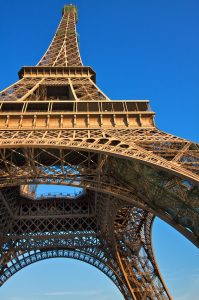 BECAUSE I KNEW YOU or HOW I BECAME A FRANCOPHILE by Michelle Fuller
When my dad taught me to count to ten in French or played "my song" for me on his record player, I never realized how big a role my tiny bit of French heritage would play in my life. I sat on his lap and listened to the Beatles sing, "Michelle, ma belle. Sont les mots qui vont très bien ensemble. Très bien ensemble," and pretended to understand the words. They were speaking French. My family was French!  Actually, my Grandma was part French. She spoke the language around her grandparents and remembers saying all her Catholic prayers in French. Grandpa was part Danish and part jokester. Every time I saw him, he'd say:
"And who are you?"  
"I'm Michelle!"
"Michelle who…?"  
"Michelle Blair!"
"Who…?"
"Michelle Lee Blair!" 
"Oh! MeeChelle LeBlaay!"
His pronunciation of "thank you" and "good-bye" were equally memorable: when we left the house he'd say, "Mercy bow-cups! Ah reservoir!" and send me and my siblings off with movies he'd recorded for us. At home we watched Audrey Hepburn dance through Paris with Fred Astaire in Funny Face, Cary Grant chase her through a metro in Charade, Humphrey Bogart sweep her off her feet in Sabrina, and Peter O'Toole drive her around the same city in a convertible in How to Steal a Million.  Not all the movies he taped for us were set in Paris, but enough of them were. French was everywhere. When I got to high school, selecting a foreign language class was simple.  
Always saving my money with one goal in mind, I finally went to Paris my sophomore year of college for a one month study abroad program. Wandering around with Edith Piaf singing "La Vie En Rose" in my ears, I was as slack-jawed as Gil in Woody Allen's Midnight in Paris.
The magic of Paris only lessoned slightly with the fact that I did not become fluent in French upon setting foot in the country. Busy with classes taught mostly in English, I hardly had a chance to practice the language and I was very timid when I did speak, except in the privacy of my own Parisian dorm room. Having been given instructions on how to set up a voicemail message in case anyone might call me, namely my mom, I recorded a message that went something like,  
"HelLO! My name is Michelle! I am not here! You can say something! I can call again! Good-BYE!"
I felt worldly with my practical application of the language. Unfortunately my mom worked with a French student in America who happened to be visiting Paris while I was there, and she gave him my number. One night I walked back to my room and found I had ten messages. I listened to about five of them, all versions of the same male voices cracking up and calling back to hear my message again, and deleted the rest…along with my recording. 
Despite the usual awkward moments that foreign language learners always have, I minored in French and thought about going back to France after graduation. Instead, I was accepted into graduate school for a Master's of Education at the University of Notre Dame. I would be attending the Catholic university of French background that my dad and grandpa rooted for every football season. For me this was almost as surreal as setting foot in Paris.  Not only would I be teaching English in the program…but French too. I learned more about the language by teaching it for two years than in school.
French did not end with my undergrad education and I realized I didn't want it to end with my graduate studies either. So, I moved to Metz, France and taught English at elementary schools for six months. It was mentally and emotionally exhausting, I didn't become fluent to the extent I wanted, and I did not morph into Audrey Hepburn there. I was surprised and disappointed that I didn't enjoy it more. 
Back home, I took a break from French studies for the first time in ten years and began working for a travel company. One day I had to call a hotel in Paris and speak to them in French, and just like that it was l'amour all over again!
If it weren't for my family, I never would have been inspired or encouraged to pursue French in the first place. Now I'm tied to France by my shred of French heritage, my stubborn need to be fluent, and my desire to live in a black and white movie set in Paris in the 1950s. In my efforts to understand the language and culture I've been disappointed and frustrated many times, but c'est la vie. Vive la France and merci beaucoup to my loving family!
_________________________________________________________________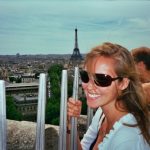 Michelle Fuller hails from Edmonds, Washington. She earned a BA in English Literature from the University of Washington and a Master's Degree in Education from the University of Notre Dame. She currently lives in Germany with her husband who serves in the US military. They love to travel and she writes about their experiences abroad here: http://fullofhertravels.wordpress.com