This post comes from someone very special to me.  Adriel has known me since I was born.  She was the older sister I never had.  Our mothers were sisters who lived in the same city, so Adriel and I, the cousins, grew up with a very tight relationship.  I cried with despair when she left for college and I wailed in the bathroom after her wedding ceremony last summer because I just couldn't bear the thought of giving her up.
Adriel is a talented, deep writer and I love everything she puts on paper.  This post is heart and magic and the stuff that touches the soul.  She's taken a unique spin on the prompt, looking at how one special place has changed her life.
************************************************************************************************************************************************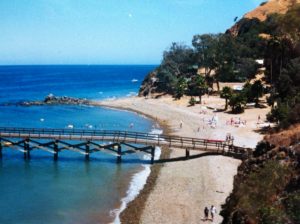 BECAUSE I KNEW YOU by Adriel Hollandsworth
For my life, the "nature vs. nurture" question has a simple answer: nurture all the way. Everything I am today has come from a multiplicity of relationships and the real question for me is whether there really is a me at all. I feel like a mosaic of hundreds of people – their voices, hands, eyes, laughs, journeys… really, who am I not?
For me, however (and perhaps this is my unique piece), besides people there is an alternate shaping character set of my life: Places.
The lure of a new place emboldens me. And, all those people who have influenced my life… at least 70% I would never have met if it weren't for the travel bug.
I've been places from Honduras to Hawaii, from Edmonton to England, from Dehli to Dubai… and a lot of places in between. And each place discovered has given me permanent gifts and longings that have turned into one voice of melancholy for, I'm sure, what must be heaven – the perfect place I was made for but have never actually seen. Each place has its own whisper hinting at it.
But not all places are equal in whispering of heaven or teaching me lessons or providing life-altering conversations.
Catalina.
Catalina Island, twenty-six miles off the coast of Los Angeles (and twenty-six miles long), the most popular of the Channel Islands, the dry desert isle used for filming Westerns in the early twentieth century, populated with buffalo and dotted with only two small towns… Catalina. Eucalyptus trees scenting the wind. Catalina. Cold salt water with dark rock jetties and kelp beds, full of little eyes and silver streaks darting to-and-fro and the occasional bright orange garibaldi or sparkling abalone shell. Catalina. Foxes, barracuda, wild pigs, hermit crabs, the Toyon cherry, poison oak, sage, quail, rocks, rocks and more rocks, prickly pear cactus, dust, palm trees, monkey flowers, seagulls, seals, sharks, stars. Catalina. Sail boats, kayaks, pick-up trucks, golf-carts, ice-cream stores, lifeguards, piers, fishing poles, bright beach towels and sunscreen. Catalina.
Catalina has been one place of constancy my entire life. I often would stay for the summer and work at camp, and my senior year of high school, I spent the entire spring there working.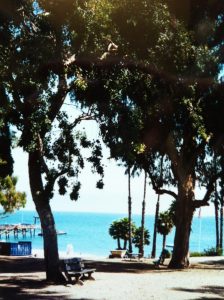 At Catalina, I first jumped off a pier.
At Catalina, I first started breaking some rules (it needed to happen).
At Catalina, I first fell in love.
At Catalina, I first experienced betrayal and rejection.
At Catalina, I first experienced God as with me in the midst of pain.
At Catalina, I first went night-swimming in breath-taking, sparkling bioluminescence.
At Catalina, at the admonition of my artistic aunt, I first learned to fully inhale moments with every sense – smell, taste, touch, hear, see – to expand my experience and memories. To this day, I can conjure up Catalina in every one of my senses, and it's one of the few places I can do that.
At Catalina, as adults, me and my cousins found true friendship in the midst of brokenness shared. A cheating fiancé, an eating disorder, fighting for parental visitation rights… We realized we were no longer kids and we needed one another.
At Catalina, I learned most friends are seasonal, and all friends change. But those moments of friendship shared shape the rest of your life.
At Catalina, I learned that climbing is exhausting, but the view from the top will give you amnesia – you can't remember the pain once you see the panorama.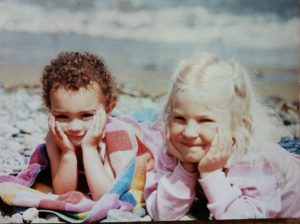 At Catalina, I learned that sometimes the only way to make it to the top of the cliff in sweltering heat is to make it one more step into the sage bush – to grasp a handful and smell it while you push on.
At Catalina, I learned that hard work precedes the most satisfying play.
At Catalina, I learned I was meant to swim.
At Catalina, I learned that the best kind of living only leaves room for a quick whisk of mascara daily, and one dress-up weekly.
At Catalina, I learned that I long for quiet time at the opening and closing of a day, but that I need people in between.
At Catalina, I met someone who called me months later with his friends to tell me that they thought I was beautiful. I never heard from him again after that, but that random act of kindness was the death-knell to my life-long struggle with self-rejection. I still have my moments of insecurity, but when I hung up the phone with Stewart, something was permanently healed in my soul.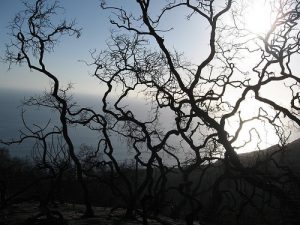 Finally, and perhaps most importantly, at Catalina, I have found constancy that goes deeper than the surface. Fires have wiped out the original Catalina landscape I knew through childhood, but the roots of the burnt trees sent up shoots months later, and now the hillsides are growing again. The original trees are gone forever, but new life comes again… bringing the same smells, the same colors, the same visitors, the same animals once more.
And in my life, the disasters that wipe out my plans or make dramatic, permanent, unsolicited changes… I have finally found and admitted that they don't ruin and end my life. Yes, certain things and people are gone for good. But, after a season of darkness and watery cold, the deep roots underneath sprout again.
I don't know who I would be today if it weren't for Catalina and the space that island provided for me to grow, learn, change. More than any other place on earth, this island has shaped me.
What's your Catalina?
____________________________________________________________________________________
Adriel Hollandsworth has been writing almost as long as she's been traveling to Catalina Island. While her subject matter has vastly changed over the years from illustrating stories of jungle princesses (age 9) to 70-page unfocused sci-fi drama (age 14) to melancholic, attention-seeking introspective blogging (age 20), writing stuff down is as vital to her survival as breathing. When she isn't writing, she's probably reading, running, bantering with her husband, or discovering someplace new.